Hand Saws Made as Musical Saws
We are not a vendor – please do not e-mail us to ask about where you may purchase such musical saws. We don't know. Try your local antique stores.
NOTHING ON THIS PAGE IS FOR SALE!!!
How many saws were manufactured especially for making music?
Even though any carpenter's saw plays, there were many saws manufactured especially for playing music throughout history:
MUSSEHL & WESTPHAL GOLD PLATED MUSICAL SAW
Mr. Clarence J. Mussehl (died 1978) founded the firm of C. J. Mussehl Company in 1915 in Fort Atkinson, WI. In 1920 this was changed to Mussehl & Westphal after Clarence teamed with Marion Westphal in a vaudeville act. They both played the musical saw and the two of them decided to produce a refined singing saw for sale beginning in 1921. Later on Clarence purchased the rights to Marion's name.
This was the "cadillac" of musical saws in 1937, selling for $25. How times have changed! Sold at auction in 2002 for $46, $51, $52, $61 and even $172.50. Sold for $102 in 2004, $100 Apr. 2005, $175 in October 2020.
This singing saw was originally made of copper and then 14-karat gold-plated (a dollar's worth of gold in 1926). The gold has a tendency to either be polished off or evaporate. There is an etching that read "The Musical Saw – Special Temper Process Patented – MUSSEHL & WESTPHAL – Fort Atkinson, Wis." (on some saws an additional line is present – see photos below). Rhinestones are inserted in celluloid washers surrounding the gold plated bolts that hold the handle to the blade. The end 3 5/8″ of the 26″ blade has an additional rough coating to aid in holding the blade while playing. As the saw was not intended for woodwork, the 8 TPI (tooth per inch) blade has no set or file to the teeth.
Mahogany handle.
This singing saw was discontinued in the 1950's.
A paragraph in a letter from Mussehl and Westphal, which they used to send when responding to an inquiry, sheds light over the date of this musical saw.
Although the letter is not dated, what is mentioned in it places this singing saw (and the letter) in the 1930's:
"The Musical Saw is today considered the greatest novelty musical instrument on the market. Have you heard Victor Record number 18767-A, Columbia Record A-3750 or Vocallean Record 14766? Did you hear Sam Moore who played at the New York City Winter Gardens for a number of years? Did you see the Greenwich Village Follies in which the Musical Saw act was the big hit of the show? Have you heard our Musical Saw played on different radio programs and the vaudeville stage? If you have heard it you appreciate the wonderful soft, sweet music it produces. You also realize the tremendous hit saw music always makes in public or at private social gatherings. parties, etc."
Sam Moore was a well known musician who played the singing saw from the twenties into the thirties.
a
On the paper that came with this gold singing saw it says:
"FOR STAGE AND PROFESSIONAL USE.
MADE BY MUSSEHL & WESTPHAL, FORT ATKINSON, WISCONSIN.
JEWEL STUDDED, POLISHED MAHOGANY HANDLE IS INSET WITH SCINTILLATING SYNTHETIC DIAMONDS,SAPPHIRES AND RUBIES.THE COLORFUL FLASHING OF THESE DAZZLING JEWELS HAS AN IRRESISTIBLE APPEAL FOR ANY AUDIENCE. THIS COUPLED WITH THE UNIQUENESS OF THE INSTRUMENT AND ITS BEAUTIFUL TONE INSURE THE HIGHEST PROFESSIONAL SUCCESS FOR ANY PERFORMANCE IN WHICH ITS PLAYED.
GOLD PLATED, IMAGINE A BLADE OF GOLD 26 INCHES LONG,HIGHLY POLISHED,RICH AND SPARKLING LIKE THE FINISH OF AN EXPENSIVE BAND INSTRUMENT.
THE IMPERIAL ARTISTS MODEL 'MUSICAL SAW' "
REGULAR (silver colored) MUSSEHL & WESTPHAL MUSICAL SAW
This singing saw comes with an "alternative" bow (see photos).
This version of the Mussehl & Westphal musical saw (Delavan) was sold since 1978. The logo etched on the blade was designed by John Wallace.
In 1981 such a singing saw cost $64.70.
The newest version of this saw says 'East Troy'.
Older version of M&W musical saw (Fort Atkinson):
During WWII such a singing saw cost $12.95.
In 1945 it cost $14.95.
In 1955 it cost $27.95.
In 1966 a brochure that was sent with the M&W singing saws reads: "Our Musical Saw may be used as a carpenter's tool without harming it in any way as a musical instrument. The more exercise the saw is given the more flexible it will become and the easier it will be to bend it and vibrate it. With this in consideration you may use our Musical Saw for every purpose that an ordinary saw is made for".
Sold at auction May 2005 for $112.50
Another older version of M&W singing Saw (Fort Atkinson) - with a 5 line stamp on the blade:
This 30" saw is marked--"The Musical Saw", Special Temper Process Patented, MUSSEHL & WESTPHAL, Instructors of Novelty Musical Instruments, FORT ATKINSON, WIS.
Some such singing saws read: "The Musical Saw" Mussehl & Westphal Instructors of Novelty Musical Instruments F. Atkinson, Wis."
Sold at auction April 2005 for $104.00
Another version of this mark is with the first row of words in script, and it reads:
"The Musical Saw"
MUSSEHL & WESTPHAL
Creators of novelty musical instruments
FT. Atkinson, WIS.

This old version of a (Fort Atkinson) Mussehl & Westphal singing saw is quite unique and might have been an experiment which got ameliorated later:
31" long, the tapering of this saw is particularly shallow. Marked: "Professional Musica Saw, MUSSEHL & WESTPHAL, Creators of Novelty Musical Instruments since 1921, FORT ATKINSON, WISCONSIN"
Another old version of this saw looks like the top edge is tapered.
Saw reads 'Professional Musical Saw - Mussehl & Westphal creators of Novelty Musical Instruments since 1921 Fort Atkins Wisconsin'.
Label is on both sides of the saw.

Mussehl & Westphal Bass musical saw
This  saw has a wooden resonator box that sits on the floor with a large blade that comes out of the top & a wooden dowel handle. Back in 1976 this saw sold for around $90.
Broadcasting Musical Saw
The blade of this saw is 26" along the bottom edge, approximately 29" long including the handle. "Broadcasting Musical Saw" and a Microphone are printed on the blade. Also the words 'Warranted Superior'.
Sold in 2002 for $87, in January 2005 for $49.00
DISSTON MUSICAL SAW
This saw is marked 'Henry Disston and Sons Established 1840 D-8 Philadelphia. For beauty finish and utility this saw cannot be excelled Henry Disston. Reg U.S. Pat off Disston Phila.'
Disston musical saws are marked "MS" instead of the D-8 found on other saws. - Thank you Mr. Henry Disston, Jr. for this correction.
29 1/2" long
This saw used to come with a tag that said who vouches for the saw's usability for music. Example of a tag: "This Musical Saw has been carefully tested by GEORGE E. HPOF, Famous Musical Saw Artist and Instructor. He has approved this saw as having the proper range and tonal qualities and the proper flexibility of the blade to make it easy to control and play."
Thank you Mr. Tom Rementer for this information.
PROFESSIONAL TROPHY MUSICAL SAW
On the front of this saw it reads: 'PROFESSIONAL TROPHY MUSICAL SAW T-128 MADE IN THE U.S.A.'
Some such saws read T-126
32" long. Sold in 2002 for $26, $58
SANDVIK STRADIVARIUS MUSICAL SAW
This saw is made in Sweeden. Etched on the saw is a big logo that says Sandvikens Stardivarius, with a man playing the saw with a bow, and the Logo of Fish with a hook. Says also SANDVIKENS JERNVEKS A.B. which is the business name of the maker.
The picture of a man on the logo is of a mythological figure called Näcken (possibly Necken in English, or "the evil water spirit"). He is an extremely gifted musician, usually a fiddler (violin being the major folk instrument in Scandinavia) and fooling women into the river to get drowned - so as a joke they put him as a singing saw player on the picture. (THANK YOU Johannes B. for this info!).
The box of this saw says Sandvik 296 (model) 30" 770 mm, 7" at the handle, 2.5" at the tip.
34" long.
In 1919, in the village of Forsbacka, Martin Larsson played his father's handsaw. I'm not sure if it was the father or the son who was a foreman at the Sandvik Steel Works and also a violinist. Anyway, he carries out a series of tests to create the best possible singing saw and called that saw 'The Sandvik Stradivarius'. These saws are made from cold-rolled hardened and tempered strip steel. The teeth are punched out and sharpened, the blade tensioned through a specialized rolling and hammering process. Before packing, each and every saw is test-played by a violinist. Only 500 of these singing saws are made yearly.
Sold at auction Feb. 2005 for $77.
A different handle to the 30" saw:
Sandvik musical saw sold by Mussehl & Westphal (1990's?):
The handle has a ring on it which says "Mussehl & Westphal East Troy, Wisconsin" while the blade has the usual old Sandvik logo


This saw sold at auction June 2005 for $122.
Bahco Stradivarius instead of Sandvikens Stradivarius musical saw:
Same saw, slightly different logo - the words below the picture are different: 'Design and quality BAHCO, Sweden. Made in Sweden'
It says 'Bahco' where the old saws say 'Sandvikens'.
The fish and hook logo is the logo of the tool company Bahco.
Snap-on inc acquired Sandvik Saws and Tools in 1999. From 2001 they can no longer use the brand Sandvik. That is the reason why this saw is branded Bahco. Bahco was earlier a sub brand to Sandvik which was included in the acquisition. The company guarantees that it is exactly the same product as before.
In January 2005 such a new saw costs 975 Swedish crowns.
Thank you, Michael M. of Sweden for this valuable info!
Spear & Jackson Musical Saw
This saw was made in Canada in the 1930's.
It measures approx. 34" overall, and the blade only, is approx. 30" long and approx. 6" deep. It is marked with the #7 on the bottom of the blade.
Feldmann Musical Saw
This singing saw is made in Remscheid, Germany and is called Singende Sage in German.
Length of blade: 90 cm (35.5"), with handle: 107cm (42"), blade width: 4-16 cm (1 & 7/12 - 6 & 5/12") or 37.5" long, 1.5" at tip, 7" at the base, with a wooden handle that is varnished in deep red, with golden engravings.
Different dimensions of the same saw:
The saw blade is 33 3/4" long and 1 7/8" wide at the front and about 7" wide at the back. The overall length with blade and handle is 37". The blade shows teeth in the middle that run about 10 1/4" long. The handle appears to be a carved Beachwood with red staining around the outside border?
"Australian" Musical Saw
Singing saw and instruction book. Made in the USA and distributed in Australia by the Century company of Sydney, Australia. The age of this saw is estimated to be about beginning of 20th century (1920s or 30s). It came with an instruction book by the Century Company "Novelty Musical Instruments" Roma House, Sydney, Australia. The book is not illustrated and is text only but is quite understandable in its somewhat old fashioned advice.
Tonk Bros. Co. Musical Saw
This is a singing saw model #217 from the Tonk Bros. Co. that was located in Chicago, Illinois.
This saw measures 30" in length. It came with a bow to play the saw, an instruction book and a heavy canvas carrying case for the saw, bow and book. The case has a compartment for the saw, a special compartment for the bow, a two snap storage area for the book and a draw string at the top. The case is lined with a soft wool like material on the inside to protect the saw during transportation and storage.
Simonds Musical Saw
The logo of this saw reads: THE SIMONDS SAW WORKS, FITCHBURG,MASS. CHICAGO,ILL.USA. BRANCH HOUSES, NEW YORK, NEW ORLEANS,PORTLAND OREGON,SEATTLE WASHINGTON, SAN FRANCISCO CAL., LONDON ENGLAND and at the bottom it reads MUSICAL SAW. Off to one side it reads MADE EXPRESSLY FOR LYON & HEALY. The name LYON was BEN LYON. Not sure of HEALY's first name. This is a "real" hand saw, it has teeth and is a workable hand saw for carpentry.
The buttons are made of brass. It is 30" overall length. The blade is 26" long, at the tip 2" at the handle 6 1/4".
Sold at auction in 2003 for $129.50, in 2004 for $46.00, $58.00 Nov. 2004
SIMONDS MUSICAL SAW for DITSON (not Disston )
Very uncommon singing saw that was made by the Simonds Saw Co. for the large 19th century music store and supplier Oliver Ditson. Has an etching that says "The Simonds Musical Saw...Manufractured Expressly for....OLIVER DITSON Co... Boston..New York."
This saw has a 26 inch blade, has 8 ppi and is marked on the heel 8. The teeth are filed rip. Wood handle. Nuts look like they are nickle plated.
Sold at auction 2003 for $160.
Jetel Musical Saw
Marked on the blade 'Jetel, Musical Saw'. Overall, the instrument measures 39 inches long. 33 inches long at teeth side and 7 1/2 inches at its widest point. My guess on the age of this is the 1930's.
"Jetel" was the unofficial trade mark of J. Thibouville-Lamy & Co., of 10 Charterhouse Street, London, E.C., a firm which was established in Paris in 1790. They were large manufacturers of every type of brass and wood instrument ' who advertised their extensive "steam factories at Grenelle, La Couture and Mirecourt." At the latter they made a wide range of guitars and mandolins. Soon after they opened their London house in 1880 they included banjos and (after 1888-Ed.) zither-banjos among the goods they sold but these were apparently made for them by Matthews, Windsor and Houghton (of Birmingham) and Temlett and Wilmslow (of London). 'The majority of the instruments sold under their name were made in their own factories in France but these never included banjos and zither-banjos. In one of their 250-page catalogues dated 1905 they offered a range of unfretted banjos from 3s. 8d up to the "Artist" model (fretted and with 30 brackets) 'or £3.10.0. Their range of zither--banjos was priced from £1.2.0 to £5.14.0. A 1924 catalogue of the company included a range of banjos from £3.16.0 to £12 whilst zither-banjos bearing the "Jetel" trade mart, were sold from £3 to £6.10.6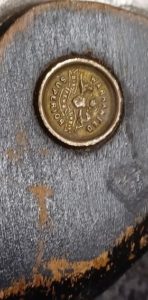 Thank you John Martin for the photos
Jedson Musical Saw
This saw measures 39 1/2" long.
1930 - 1940s ?
Lion and Healy Musical Saw
Type: Crosscut
Manufecturer: Lion and Healy Musical Saw
Model Number: No. 217
Overall Length: 29 3/4 inches
Height: 6 inches
Handle: Beech Dark oak finish
TPI: 8
Logo reads "lion and Healy musical saw Chicago Illinois, No. 217". Picture of an eagle in the medallion.
Sold at auction 2004 for $73.
Charlie Blacklock's Musical Saws
These singing saws have a mellower sound.
All his saws are made by Valley Saws in San Jose, California, have a wider blade near the handle than an average saw, and have a plain laminated wood handle.
4 sizes are available: 26, 28, 30 and 36 inch lengths. Made of spring steel, 0.35 (35 thousandths) thick.
How to tell their age: the 28" saw that has the blue painted edge on the handle was made from the late 1960's up until the end of the 20th century.


(28" saw sold at auction Nov. 2004 for $52.00, May 2005 for $84.50).
Singing saws that were made in the 21st century have a new handle design.
The very early ones have a thicker steel than the current ones.
Charlie's wife, Viola, made the case that comes with this saw.
The handle of the C.B. saw has a straight cut along the back side, with the wood not protruding into the blade too much, thus elongating the usable length of the blade for music - the blade gains an extra note or two.
The stamp on the saw says Musical saw Inc. San Jose. Blackford Edition.
Radio Musical Saw
This singing saw measures 26 1/8" along the teeth, and 30" all together. It is marked, "Radio Musical Saw."
Parkstone Musical Saw

This singing saw is made in England. 30" long made of carbon saw steel. It's range exceeds 2 octaves. The blade thickness is approximately 33thou. American walnut handle with solid brass fixings.
Also known as the 'E.T. Roberts & Lee Parkstone Melody' musical saw.
Columbia Musical Saw
This saw was crafted by the Columbia Saw Works in Indiana, USA in the 1920s.
The blade of the saw is inscribed with the Company logo "Columbia Saw Works", "Indianapolis, Indiana", "Made in USA" and "Cast Steel Warranted". At the handle we find a round brass plate with an eagle inscribed "Warranted Superior" as well as a silver colored plate with the initials "MR" (initials of the former owner?).
This saw is made of cast steel & a wooden handle with brass screws & a metal plate.
Length of the saw is 33.5 inches. (deco 33sz)
Lionel Hartley Musical Saw
This saw was made around the 1970s by Australian instrument maker Dr Lionel Hartley, who is also a handbell musician and he was a builder of barrel organs before he retired, as well as the maker of jaw harps, several two-octave sets of tuned cowbells (cut out of copper sheeting and folded), a large number of items of noise-making magician's and clown's apparatus, a couple of musical marionettes, one only lute (in conjunction with another instrument-maker), a quarter-size harpsichord and a reed pedal organ.
Here is the best info possible about this saw - directly from Dr. Hartley himself:
"I made only a dozen or so. These were made out of spring steel with French-polished handles, hand-carved from English Oak. The handles were slightly larger than a conventional saw handle and contoured so that it could be comfortably supported with the knees while playing. I also made matching Left-hand Grips that could be fastened to the end of the blade with a spring clip.
The blades were 31 inches and the total length of the saw, including the handle was one yard exactly.
The blade was fastened to the handle with home-made brass studs turned on a lathe. I chose spring steel specifically to give my saws a distinctive tone - less melancholy than a conventional steel saw, and easier to play (spring steel 'sings' naturally).
I used commercially made violin-cello bows with natural horse-hair simply because these were so readily available it seemed pointless making my own.
You asked about a logo on the blade. None of the saws that I made were etched as I was only making them as a bit of a hobby. I did, however carve (onto the handle and carry-case) a floral design with my name and either "New Zealand" or, more often "Australasia" (Australasia is a word used to describe Australia and New Zealand). My saws were made when I was in New Zealand. One was sold to a musician with the Christchurch Philharmonic Orchestra. And another to agents for a Russian clown (I think, from memory, that his name was Oleg Popov). I do not know what happened to the others - they were sold through a music store in Christchurch, New Zealand. As this store was frequented by international tourists, they could be anywhere by now."
Thank you to Dr. Lionel Hartley for the info about the Lionel Hartley Musical Saw.
ATKINS SAW~VIOLIN
One of only two saws manufactured for music but functional for carpentry as well!
The logo on this saw reads: THE FOUR HUNDRED, SILVER STEEL, OUR ELITE SAW, UNEQUALED IN WORKMANSHIP AND FINISH. MANUFACTURED BY: E.C. ATKINS AND COMPANY INDIANAPOLIS, INDIANA. OUR A BLADE WITH PERFECTION HANDLE ADAPTED FOR RAPIDITY AND EASE IN CUTTING. SIGNED: E. C. ATKINS COMPANY.
On one side it is enscribed VIOLIN. Also, has the name E.C. TOWNSEND ETCHED.
On back of the saw it is marked: ATKINS in large letters
The saw itself is a 24" blade, straight back, 10 point.
It has a wood (rosewood?) handle with 5 screws.
The end is of hard wood, possibly walnut that measures 3 1/2" long. Held onto saw with 2 brass screws. The overall length of this saw is 30" long.
It was popular back at the turn of the century when Vaudeville and traveling medicine shows were common for a saw player to cut the leg off a chair or stool to show the unbelievers that it was a real saw he/she was playing. Some musicians had a chair with one leg that was replaceable so that it didn't require a new chair every performance.
The Atkins company was best known for making handsaws, circular sawblades and bandsaw blades, but they also made a grinder. As far back as 1860, Elias C. Atkins received patents for sawblades and for machines for manufacturing saws. It is uncertain when he started manufacturing and when "E. C. Atkins & Co." was formed, but the latter was definitely in existence by 1888. It lasted until at least 1942.
It's conceivable that Atkins made and sold some saws for musical saw playing, just as today the Valley Saw company in California makes singing saws for Blacklock. Or more likely someone found this carpenter saw to play so well, he called it a "violin" saw and put his name on it.
Years ago Ed & Carolyn Wilcox of Batesville, Arkansas found a great 26" saw made by the Great Neck tool company of New York which they used to sell as a musical saw. For a while Great Neck had the name "Bluegrass" on it. Today the same blade is sold as HOMEOWNER saw - still a great singing saw.
Thank you Don Henthorn and Ed Wilcox for your kind input about the Atkins musical saw!
Arrow Musical Saw
Speliplari Musical Saw of Finland
This saw is made in Pikatera, Finland. It is coated with black Teflon and no teeth, 31" long.
Pikatera was founded in 1956. The company is one of the leading saw blade producers in Scandinavia.
Speliplari means 'play blade'. Designed by the Finnish player Aarto Viljamaa.
There is a gold plated version of this singing saw.
Thank you to Johannes Bergmark for the info about the Speliplari and to Jim 'Supersaw' Leonard for telling me about the Speliplari and the Arrow saws!
Musical saw of Lapland, Finland
This saw was designed by Matti Korva. Matti Korva plays kantele (Finnish harp), accordion, piano, percussion, and musical saw.
Handle made from alder, blade from steel.
Called 'SOITINSAHA' in Finish, which translates as 'instrumental saw'.

Musical saw made in Norway
This saw is called a 'G-Man'
Thank you John & Rosemary of New Zealand for this info.
Musical saws of Japan
Namazu (two models: 'Namazu' and the longer 'Oh! Namazu').

Another Japanese singing saw is designed by saw player Tanimura.

Cello Golden Tone musical saw
This saw is 30" inches long on the teeth side. It has chrome looking finish. Marked CELLO GOLDEN TONE, AMATUER ACTS SUPPLY COMPANY, NO. 3. The medallion is marked warranted superior.
Paul Goward musical saw
Stamped on this saw is: "Paul's HummuH Saw"
Paul Goward, Lowell, Massachusetts.
Musical saw maker in the 1920's. His singing saw came with an instructional of how to play it. He operated out of 246 Summer street, Boston, Mass., and marketed his saws for people who wanted to play saw with Dance Orchestras. There were many dance orchestras in the 1920's who had a saw player.
(Thank you Rick DeHaven for the photos of his great-grandfather's singing saw!)
If anyone has information about other saws made especially for music, please let us know.